The Fab 4 Taxi Tours team is made up of the most amazing people.
All of the gang are eager to make every visit to Liverpool the best it can be and bring a wealth of Beatles knowledge to help make that happen.
We especially believe it's the passion, energy & expertise of our driver guides that sets Fab 4 Taxi Tours apart.
BUILDING OUR Fab TEAM in No Time!
JIMMY
The blood of Liverpool flows through Jimmy's veins. He was a pro footballer in the 1970s and can boast of playing with Kevin Keegan. These days you're more likely to find Jimmy kicking a ball in the park with his family. Being a free spirit, he enjoys the freedom and flexibility of being a guide and any tour guest can vouch for the fact that Jimmy makes his tours fun and interesting. Jimmy's cab is called Penny Lane and his favourite Beatles song is 'Do You Want to Know a Secret'.
Dave
Proud to be called a Scouser, Dave was born and raised in Liverpool... He is passionate about all things Liverpool including its music and history and of course his beloved football team Liverpool FC! He loves passing on all the stories of Liverpool's history and of course the Beatles! His other passion is holidaying "where the sun is warm and the beer is cold".
ROBBIE
Robbie was born in Liverpool and is a bit of a culinary whizz having worked as a chef for over 20 years. His favourite Liverpool location is St. Peter's church as that's where Beatles history was made. Robbie enjoys the simple pleasures of life listening to music, gardening and enjoying a beautifully cooked steak Rossini. He loves meeting tour guests from all over the world who have a shared interest in the Fab 4 to share stories which are unique. His favourite song is 'I am the Walrus' and drives a cab called 'Abbey Road'.
Jay
Jay was born in the Fairfield area of Liverpool. He used to be a manager of a kid's football team before becoming a Beatles tour guide. One of his favourite places he enjoys spending time, is the world-renowned Liverpool Central Library. Jay enjoys reading and is passionate about all things Beatles related. He enjoys guiding because he gets to meet people from all over the world and seeing how amazed they are when visiting his city and its Beatles locations. You'll see Jay around town driving a cab called 'Martha'!
John J.
John is an amazing character who loves thw world! Hi favourite country is Greece coupled with his favourite food: lobster and steak (bit of surf n turf!). He is a Blue (Everton supporter) and loves music such as Pink Floyd and, of course, our Fab4!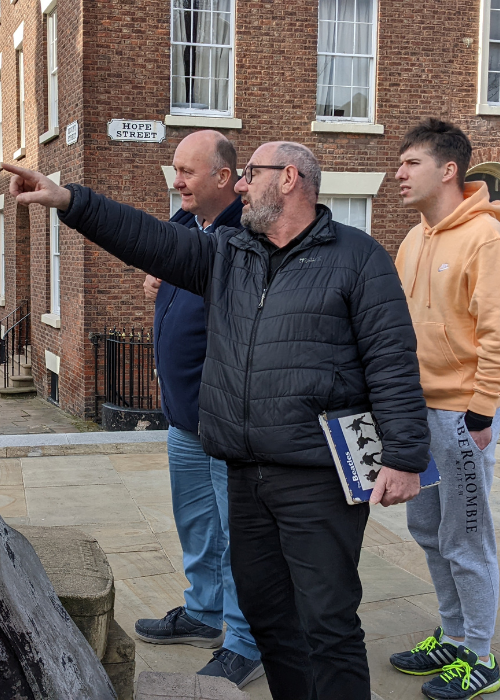 PETER
Born in Walton in Liverpool Peter attended Liverpool Institute for Boys, the same school as Paul McCartney. Another similarity with Macca is that Peter comes from a musical family and has been a full time musician/performer for 16 years and has travelled around the UK and Europe. His favourite part of Liverpool is Mathew St., the home of the Cavern, Merseybeat and live music. When Pete isn't rocking you'll find him driving around the city in his cab called Sexy Sadie showing people from around the world Liverpool's architecture and music scene. Pete is great fun on tour and will always go that extra mile to put a smile on a customer's face.
TONY P.
Born in Oxford Street Maternity Hospital where John Lennon was also born Tony has a colourful past having been a pub landlord, care worker and then a cab driver for over 20 years. He enjoys drawing and walking. He counts Pierhead as one of his favourite places in Liverpool although it's the people of Liverpool that are the standout attraction of the city. His favourite Beatles track is 'Strawberry Fields'. Tony loves giving Beatles Tours because he gets to meet people of all nationalities and uses his Scouse sense of humour to make them feel at ease.
Steve H.
Steve's been a taxi driver in Liverpool since 1997, is a season ticket holder at Liverpool FC and was in Istanbul when they famously lifted the UEFA Champion's League cup back in 2005. Steve is a lifelong fan of 'The Beatles' and his uncle (Tommy Moore) once played the drums with the Fab 4 when they were called the 'Silver Beatles' back in the very early 60s. Steve lives in Forthlin Rd (as did Paul McCartney) and his 3 children went to the same school as John Lennon!
KEITH
Keith is passionate a bout all things Liverpool! He has lived in Liverpool his whole life and has picked up amazing anecdotes and stories about the city and The Beatles. Hobbies include fishing, camping, art and walking. Another big love is football and Liverpool Football Club. Favourite Beatles song? "Many!"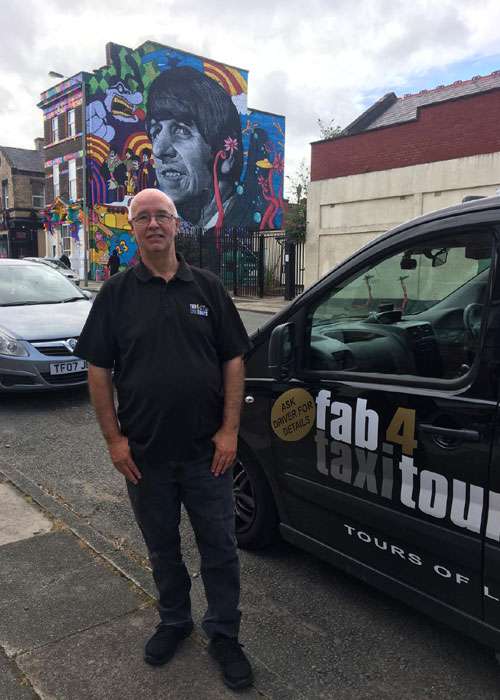 PHIL
Phil grew up in Everton and is a fan of the Toffees and loves spending time with his family. Phil served in the British Army for 6 years but these days you'll find him enthusiastically showing off the great city he calls home and getting to meet fantastic people from around the world. His favourite Beatles song is 'Across the Universe' and you'll see him driving around in a taxi called Eleanor Rigby. If Phil is your guide, you'll soon get to realise he is passionate about the Beatles and the city of Liverpool.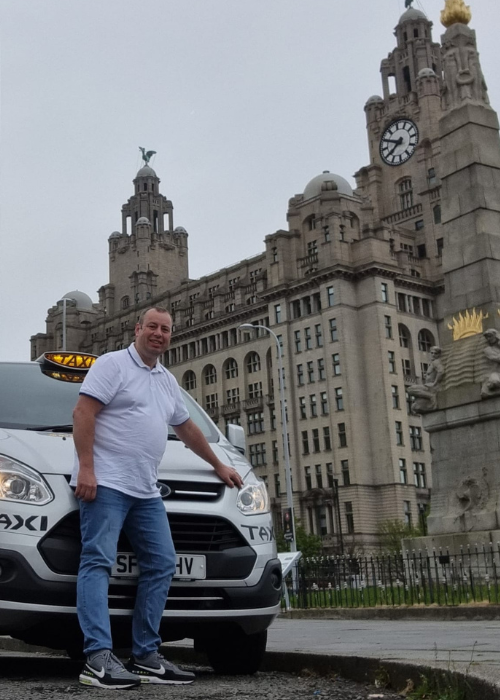 John H.
John, 49 from Anfield, Liverpool has worked as a Liverpool taxi driver for over 20 years. John loves theatre and music and has performed on stage in pantomimes in theatres across the North West. He has a passion for Liverpool's proud history and loves to show visitors around our wonderful city. A loving family man, John can usually be seen on adventures out with his granddaughter, Bella. His favourite Beatles song is Hey Jude!
EDDIE A.
Eddie is a larger than life Scouser who in his former life was a truck driver delivering eggs. He was the "The Egg Man". A life long fan of Liverpool FC, Eddie loves his football and is a proud grandad. Eddie likes meeting new people to swap tales, have a laugh and promote the city and its people. His cab is called My Bonnie, the first recorded song to feature The Beatles. He enjoys Indian, a good Greek Meze and of course his wife's Sunday Roast. Eddie loves The Beatles and is also partial to Pink Floyd. Mendips, home of John Lennon would be his choice Beatles location.
Geoff
Born in Liverpool, Geoff has been a passionate Liverpool Hackney taxi driver for 30 years and loves his club, Liverpool FC. Geoff was a regular at that famous barber shop on Penny Lane in the 1980s and 1990s (same as John Lennon and Paul McCartney). Geoff enjoys walks around the city and region and telling people all about the great city of Liverpool and the role our Fab 4 played in the city. His favourite Beatles songs are Hey Jude, Let It Be and I Feel Fine. Not be fair, it is very hard to pick just one!
TONY B.
Born in Oxford Street in Liverpool, Tony grew up in Hunts Cross and worked as a teacher for 34 years. He enjoys cooking, walking the dogs, travelling to Italy and cycling. Being healthy and happy is central to Tony's philosophy and when he meets people from all over the world on his tours they realise the Scouse spirit of friendliness. His favourite Beatles song is 'The Long and Winding Road' but also likes a bit of The Pogues. His cab is called 'Dear Prudence'. His favourite places to visit in Liverpool include the two cathedrals, LIPA, Philharmonic Pub, Everyman Theatre, Pen Factory and The Casa.
Paul T.
Paul is from Walton and has been a taxi driver for over 25 years. Paul loves to cycle, play darts and enjoys socialising with his family and friends. One of his favourite things to do is go out for nice meals and enjoying his wife's amazing cooking. Since joining Fab 4 Taxi Tours he has reconnected with his wonderful Liverpool and clearly loves what he does! Passengers have a wonderful time with Paul and we're pleased to call him one of our crew! His favourite Beatles sound is Hard Days Night.
Gary
Gary is a huge Beatles fan and passionate about all things music and Liverpool! He#s been working as a taxi driver for over 23 years! Gary is a keen amateur photographer and loves taking mainly b/w night photography.
ALAN
Alan loves Liverpool FC, the city and, of course, The Beatles! The Anglican Cathedral is one of his favourite buildings in the city. Alan enjoys being a tour guide, singing and telling stories all around The Fab 4! 'Rocky Racoon' would count as his favourite Beatles song.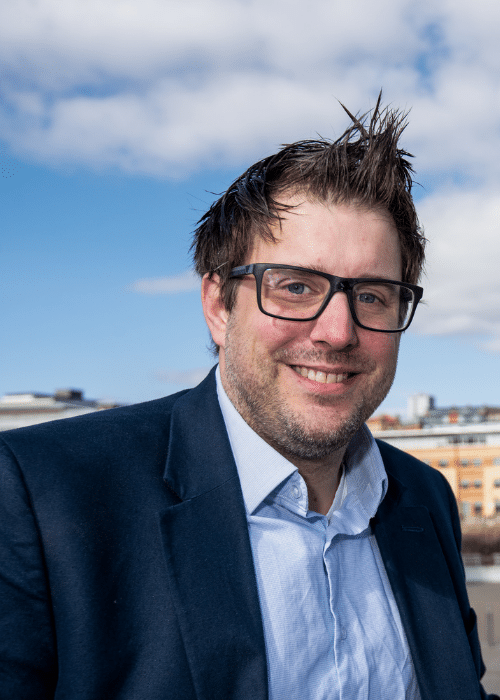 ALEX
Originally from Germany (Lüdenscheid), Alex became involved in the inbound tourism industry in 2004 after moving to Newcastle upon Tyne. Since then, he has successfully launched his own business Northern Secrets Ltd & co-directs Experience North Ltd with his friend and business partner, Paul. Both have dedicated their professional lives to generating business and inbound travel into Northern England. A new chapter for Fab 4 Taxi Tours began when Alex, together with Paul & Lewis, took over the business in 2019. Alex has always loved the Beatles from a young age & one of his favourite songs is 'Penny Lane'.
LEWIS
Lewis grew up in London and loves travelling the world (especially film locations) and spending time with his family. He has a sister company called Brit Movie Tours which he founded back in 2009 which takes fans to TV and Film Locations around the UK. Running Peaky Blinders Tours in Liverpool helped Lewis spot an opportunity with Fab 4 Taxi Tours and ultimately led to joining forces with Paul and Alex to start a new chapter in the story of Fab 4 Taxi Tours in December 2019. Lewis was already a lifelong fan of The Beatles and his favourite songs are 'Across the Universe' and 'Norwegian Wood'.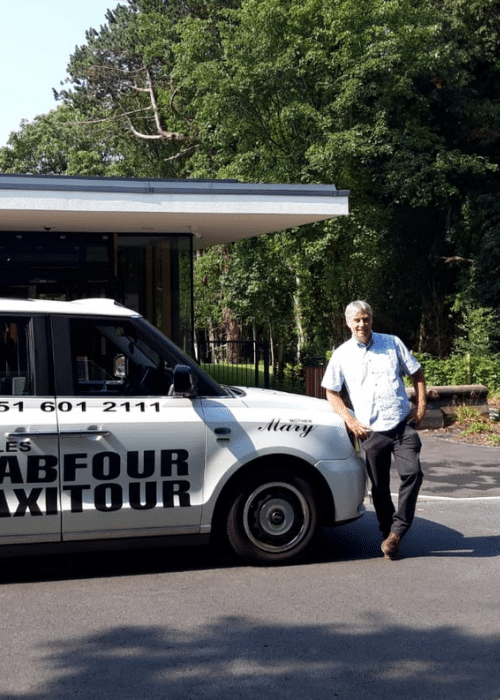 PAUL M.
Born in London, Paul moved to the Wirral, just across the river Mersey from Liverpool, when he was 5. He has lived in his adopted city ever since apart from a short spell back in London in the 1990's when he attended university. Paul has enjoyed a 25 year career in tourism working at the city's tourism office and as a tour operator and tourist guide. Experience North Ltd, together with friend and business partner Alex, looks after a plethora of touristic needs in Northern England.. As a life-long Beatles fan, the decision to take over stewardship of Fab 4 with Alex and Lewis, was not difficult.
EDDIE C.
Eddie was born in Sefton General Hospital, where Julian Lennon was born. He's one of our longest established guides and, since retirement from driving, now looks after driver guide training, custom tours and has also taken an active role in management. His favourite Beatles song is 'Get Back'!
ANNE
Anne is our office manager who keeps all things together between bookings coming in and allocating the perfect guides to the required jobs! She is amazing at efficiency and also your initial point of contact when you speak with the office.
RICHARD
Richard is a social media guru! He brings a wealth of experience to our brand including marketing work with a 4-times UK-Number-One-Hit musician, a record label, a Europe-wide optician brand, a major Peak District tourist attraction as well as Staffordshire Moorlands Council. We are more than lucky and honoured to have him onboard! His favourite song is 'Penny Lane' but he enjoys so many of them...
RON
Ron is our accounts manager and weekend admin assistant - together with his wife, Pal, they ensure the smooth running of operations at weekends and during busy cruise days.
Our Founders: THE ORIGINAL FAB 4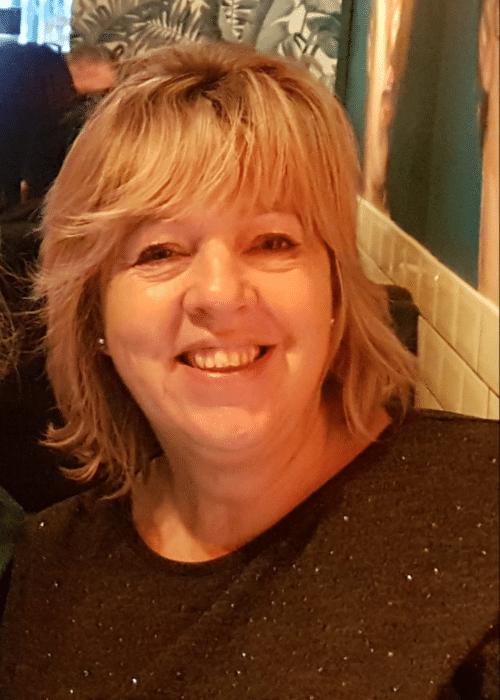 DEBBIE
Debbie hails from Morpeth in Northumberland but has lived in Liverpool since she was 2. She is married to co-founder Terry and has worked as a taxi driver in the past but is now a professional tourist guide aspiring to be the best in her profession. She never gets bored with showing visitors the delights of Liverpool counting Canada Boulevard and Albert Dock as some of the city's highlights. She enjoys Horse riding, reading and researching tours. She's also partial to a bit of Queen and U2. Debbie's hard work over the years is hugely appreciated and has helped put Fab 4 Taxi Tours firmly on the map.
TERRY
Terry is the start of the story of Fab 4 Taxi Tours. A Liverpool taxi driver who spotted that a bus going down Penny Lane didn't stop for pictures gave him his Eureka moment and from there the idea of the Beatles Taxi Tours that are very customer focussed was born. Married to Debbie (see above) Terry is very passionate about sharing the city especially the Liverpool Anglican Cathedral and the Georgian Quarter. From all of us at Fab 4 Taxi Tours we salute you Terry.
Our tours & experiences are private tours and include just you & your group of family, friends or colleagues.​ We'll show you the highlights & hidden gems – fully immerse yourself in all things Beatles!​