THE DELUXE BEATLES EXPERIENCE
THE DELUXE BEATLES EXPERIENCE INCL. CASBAH COFFEE CLUB
Our Deluxe Beatles Tour takes you on a unique and personal journey transporting you back to step in the footsteps of the Fab 4!
The tour incorporates all elements of our Classic tour plus more time at Strawberry Field to appreciate the historic site and a special visit to and tour of The Casbah Coffee Club*.
Immerse yourself into the lives & stories of The Beatles & let your expert driver guide give you all the background & anecdotes and take you to the very best locations in and around Liverpool.
Experience Strawberry Field gates & gardens
Visit and tour the Casbah Coffee Club*
Penny Lane (incl. the famous sign & Barber Shop, St. Barnabus Church and more…)
Woolton village (where John met Paul)
Eleanor Rigby's grave
Beatles childhood homes exterior visits & photo stops
*Please note that entry fees are not included in your tour costs.
PURCHASE THIS TOUR AS A GIFT
Did you know that you can now purchase this tour as a gift voucher to give to friends and family? It's ideal for birthdays, anniversaries, wedding presents, Valentines Day and Christmas.
Don't forget that this tour can be booked for up to 5 guests per taxi!
Gift vouchers are available for all our tour packages and are valid for 12 months.
If you are visiting Liverpool by cruise ship, please add "Liverpool Cruise Terminal" as your pick up location to include these added benefits:
We add £30 per cab for pick ups within Liverpool Cruise Terminal. See our full terms & conditions for details.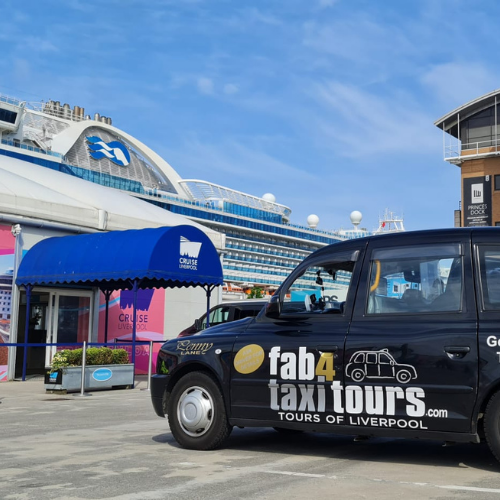 Choose your perfect tour pickup
Don't worry, a city centre pick up is included in your tour cost. If you are based further afield, we have created a simple price list below which will be added to your tour rate at booking. A rates below are based on one-way travel:
L1, L2, L3 postcodes (e.g. city centre hotels): included in your tour
L4 – L36 postcodes: £17.50
Liverpool John Lennon Airport: £30.00
Wirral: £45.00
Ormskirk (L37) & Formby (L39): £40.00
Southport & Chester: £55.00
Manchester (incl. Manchester Airport): £100.00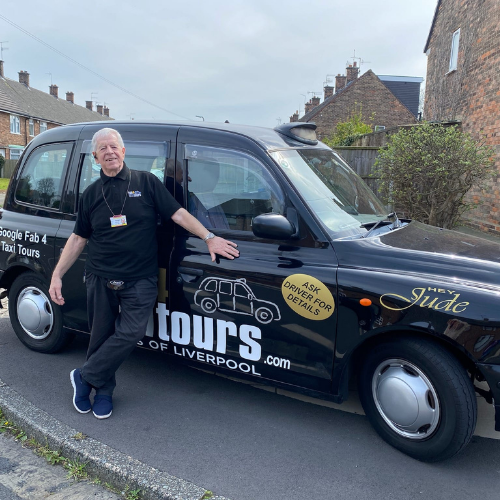 *Please note: Entrance fees are not inlcuded. Tour at Casbah Coffee Club payable on arrival (GBP20.00 per person in cash only).
RELATED TOURS OF LIVERPOOL
CLASSIC BEATLES TOUR
BY PRIVATE CAB
LENGTH: 3+ HOURS │ UP TO 5 GUESTS
Discover some of the best stories & insights of the Fab 4 on this privately-led 3-hour Beatles tour of Liverpool – the original and most popular of our Liverpool Beatles tours. Want to delve deeper? Take a look at the Classic Beatles PLUS tour.
BEATLES CHILDHOOD HOMES TOUR OF LIVERPOOL
LENGTH: 5 HOURS │ UP TO 5 GUESTS
We´ve teamed up with the National Trust to give you access to Mendips and Forthlin Road as well as an amazing tour of the Beatles childhood homes! How did the Fab4 meet and what made them one of the most famous bands in the world?
ULTIMATE BEATLES INCL. BEATLES STORY AND CAVERN
LENGTH: 8 HOURS │ UP TO 5 GUESTS
Combine our Classic with the Early Years tours and add in some extra Beatles magic! Your tour includes a walk along Mathew Street, a visit to the famous Cavern Club filled with live music as well as entry to the Beatles Story on the Historic Waterfront!