EXPERIENCE OUR SIGNATURE
CLASSIC BEATLES TOUR
Return to the Swinging Sixties on our 3-hour signature Beatles Classic tour of Liverpool & surrounding suburbs – the original and most popular of our Beatles tours! What better way to learn about our fab lads from Liverpool than by hopping into your own private taxi tour, driven by a local expert driver guide?!
Some of your tour highlights include the childhood homes of your four favourite lads as well as some of the iconic places they frequented or sang about. Experience Penny Lane (incl. a photo stop at the famous sign & drive-past the barber, St. Barnabus Church and more), Strawberry Field (incl. stop for refreshments and photos) or Eleanor Rigby's grave… Discover Woolton village where John met Paul on 6 July 1957, that 'fete-ful' day where John's band, 'The Quarrymen', were playing at the church fete.
There are so many highlights during this Fab 4 tour that you will be able to cherish forever!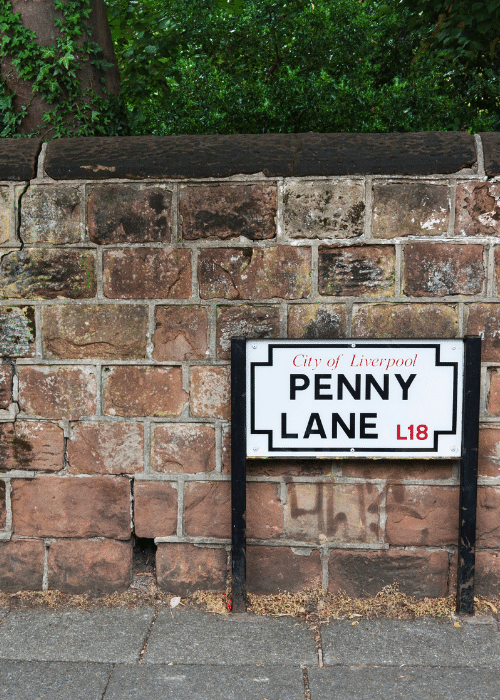 PURCHASE THIS TOUR AS A GIFT
Did you know that you can now purchase this tour as a gift voucher to give to friends and family? It's ideal for birthdays, anniversaries, wedding presents, Valentines Day and Christmas.
Don't forget that this tour can be booked for up to 6 guests per taxi!
Gift vouchers are available for all our tour packages and are valid for 12 months.
THE QUARRYMEN
Meet one of the original Quarrymen, Len Garry and Colin Hanton, and discover what it was like knowing and playing with the music legends that became The Beatles.
CASBAH COFFEE CLUB
Enter the world-famous Casbah Coffee Club, 'the holy grail' of the Beatles trail. This is where the Beatles truly began & you can discover it with us.
TICKETS
Add your tickets to the top Beatles attractions, such as The Beatles Story, British Music Experience or Liverpool Beatles Museum right here at checkout!
CAVERN CLUB
Discover the world famous & evocative spirit of the legendary Cavern Club - where the Beatles musical identity was formed. Book tickets & more at checkout.
RELATED LIVERPOOL BEATLES TOURS
FAB 60 MINUTES BEATLES CITY HIGHLIGHTS TOUR
LENGTH: 1 HOUR
Experience a Fab 60-minute private guided cab tour of Liverpool, giving you a quick (but fab!) introduction to The Beatles, the great city of Liverpool & some unexpected highlights along the way. Be amazed at what 60 minutes can bring!
CLASSIC BEATLES PLUS TOUR
BY PRIVATE CAB
LENGTH: 5+ HOURS
Our Classic PLUS Beatles tour takes you on a unique and personal journey, transporting you back to the Fab 4 childhood homes & delves even deeper into the their lives... This tour is customisable - take a look!
BEATLES CHILDHOOD HOMES TOUR OF LIVERPOOL
LENGTH: 2+ HOURS
Who were the Fab 4 as ordinary boys from Liverpool and how did they become one of the most famous bands in the world? Find out by jumping in one of our Fab 4 taxis for your private tour experience and your fab & enthusiastic tour guide!