BEATLES EARLY YEARS TOUR OF LIVERPOOL
A 90-MINUTE DELVE INTO THE BEATLES' LIVES & THEIR CITY OF LIVERPOOL
Explore the early years of The Beatles and discover how some significant people formed the lives of the Fab 4 before and during their time becoming famous. This tour offers a fantastic introduction to both the Beatles and their home city of Liverpool.
Highlights include:
Visit 64 Mount Pleasant, the place where John & Cynthia got married
See John's birthplace on Oxford Street
Liverpool's Georgian Quarter
Drive past the famous Philharmonic Dining Rooms on Hope Street
Views of Liverpool's Cathedrals
Learn about Liverpool Institute for Performing Arts, known as LIPA
Experience A Case History up-close
See the Ye Cracke pub
Looking for more such as Strawberry Field or Penny Lane? Check out our Classic Beatles Tour. You can even mix both tours to create your own bespoke package!
PLEASE NOTE: This tour concentrates on the city centre Beatles highlights only and does not visit childhood homes, Penny Lane or Strawberry Field.
If you are visiting Liverpool by cruise ship, please add "Liverpool Cruise Terminal" as your pick up location to include these added benefits:
We add £30 per cab for pick ups within Liverpool Cruise Terminal. See our full terms & conditions for details.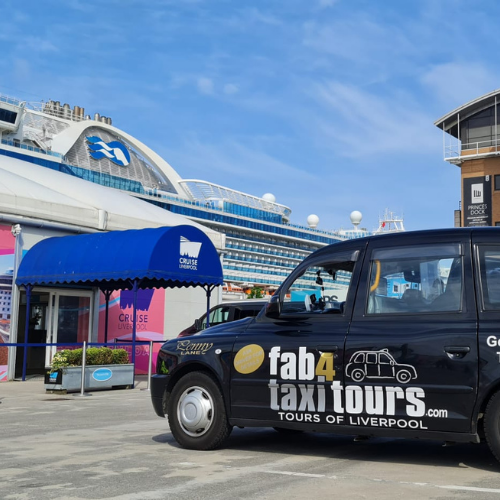 PURCHASE THIS TOUR AS A GIFT
Did you know that you can now purchase this tour as a gift voucher to give to friends and family? It's ideal for birthdays, anniversaries, wedding presents, Valentines Day and Christmas.
Don't forget that this tour can be booked for up to 5 guests per taxi!
Gift vouchers are available for all our tour packages and are valid for 12 months.
RELATED TOURS OF LIVERPOOL
CLASSIC BEATLES TOUR
BY PRIVATE CAB
LENGTH: 3+ HOURS
Discover some of the best stories & insights of the Fab 4 on this privately-led 3-hour Beatles tour of Liverpool – the original and most popular of our Liverpool Beatles tours. Want to delve deeper? Add our Beatles Early Years Tour in!
BEATLES CHILDHOOD HOMES TOUR OF LIVERPOOL
LENGTH: 5 HOURS │ UP TO 4 GUESTS
We´ve teamed up with the National Trust to give you access to Mendips and Forthlin Road as well as an amazing tour of the Beatles childhood homes! Who were the Fab 4 as children, how did they meet and become this famous band we all love?
DELUXE BEATLES EXPERIENCE INCL. CASBAH COFFEE CLUB
LENGTH: 6 HOURS │ UP TO 5 GUESTS
Explore a more in-depth Beatles experience taking in our classic tour incl. Penny Lane, childhood homes (exterior), more time at Strawberry Field and a very special visit to Casbah Coffee Club! Join us on a personal journey of our Fab4!