BEATLES CHILDHOOD HOMES TOUR EXPERIENCE
©National Trust Images/Annapurna Mellor
DISCOVER THE CHILDHOOD HOMES OF THE BEATLES
We've teamed up with the history experts at The National Trust to bring you a tour experience of the lifetime!
Explore the interiors of both Mendips, John Lennon's childhood home, and Forthlin Road, Paul McCartney's childhood home. Walk in the footsteps of legends and explore how John and Paul grew up here, practiced their music and wrote some of the first songs made famous by the Beatles.
The National Trust childhood homes tour is the only one which takes you inside these unique and atmospheric buildings and we are the only taxi tour company able to offer you the full story!
Not only will you explore John and Paul's childhood homes but will also be taken to both Ringo and George's childhood homes. We are often also given exclusive access to George Harrison's former childhood home at Upton Green (Wednesdays only) which will let you immerse yourself even further into the lives of the Fab 4!*
Who were these four ordinary boys from Liverpool and how did they become one of the most famous bands in the world? Find out by jumping onto one of our amazing Fab 4 taxi tours cabs and let your expert driver guide give you all the stories…
Step back in time and enter the worlds of John, Paul, George and Ringo!
*Please note that we do not enter Ringo Starr's home.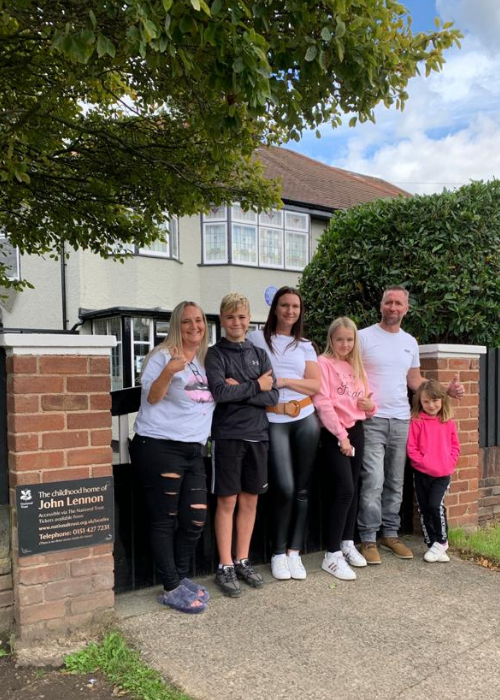 GET EXCLUSIVE ACCESS TO GEORGE HARRISON'S FORMER HOME*
We have partnered with the owners of 25 Upton Green, George Harrison's former childhood home, and we have been given exclusive access on Wednesdays in-line with our Childhood Homes tour! You are invited!
The place the Harrison's lived from 1950-1962
Spend time in each room and soak in the atmosphere
Strum the guitar and feel the vibes
Take pictures and enjoy the space
Exclusive access to the property during our tour
Book both tours as a combo and receive 20% off the retail rate of the Fab 60 Minutes Tour. Follow the easy steps during the tour booking checkout.
*Access to Upton Green is only available on Wednesdays' regular departure tour. All access is subject to availability and at owner's discretion. 
Images produced by The National Trust are ©National Trust Images/Annapurna Mellor
LOOKING FOR FURTHER DATES?
Our Childhood Homes tours are in extremely high demand. This means that there is limited availability across the year. We operate this tour regularly & exclusively on Wednesdays between March and November.
We may have added availability across the season and therefore the ability to generate more tickets and tours on other days. To register your interest, please contact us using the form below with your preferred range of dates.
If you are visiting Liverpool by cruise ship, please add "Liverpool Cruise Terminal" as your pick up location to include these added benefits:
We add £30 per cab for pick ups within Liverpool Cruise Terminal. See our full terms & conditions for details.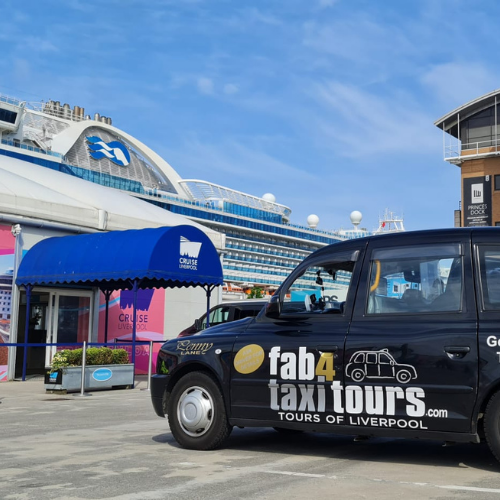 Choose your perfect tour pickup location
Here at Fab 4 Taxi Tours we are looking to make things as simple and convenient as possible for you. 
Your tour pickup is free & included from any Liverpool city centre hotel or location within an L1, L2 or L3 postcode.
Based further afield? Not a problem – see our pick up rates below (all prices are one-way):
L1, L2, L3 postcodes (e.g. city centre hotels): free (included in your tour)
Other Liverpool postcodes: £15
Liverpool John Lennon Airport: £22
Wirral: £36
Formby: £40
Southport or Chester city centre: £55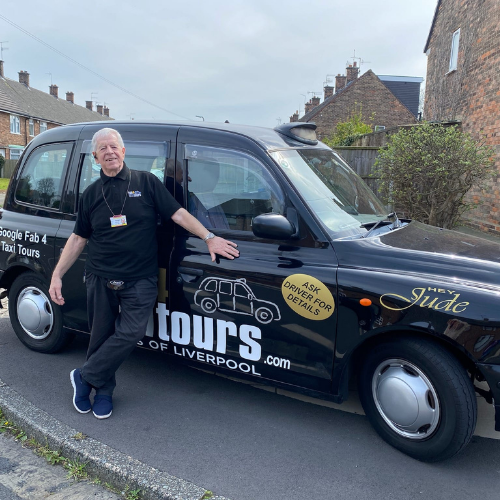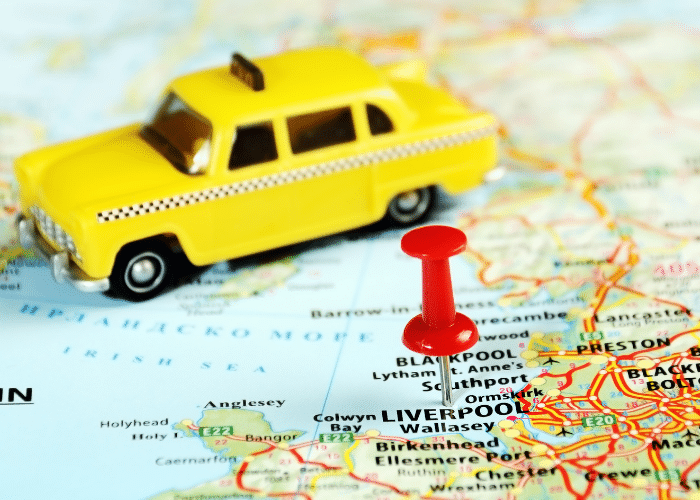 *Please note: We do not enter George Harrison (access to Upton Green only on Wednesdays) or Ringo Starr's childhood homes on this tour. The National Trust element of this tour is a public tour of the homes with up to 15 guests participating.
RELATED LIVERPOOL BEATLES TOURS
FAB 60 MINUTES BEATLES CITY HIGHLIGHTS TOUR
LENGTH: 1 HOUR
Experience a Fab 60-minute private guided cab tour of Liverpool, giving you a quick (but fab!) introduction to The Beatles, the great city of Liverpool & some unexpected highlights along the way. Be amazed at what 60 minutes can bring!
CLASSIC BEATLES TOUR
BY PRIVATE CAB
LENGTH: 3 HOURS
Discover some of the best stories & insights of the Fab 4 on this privately-led 3-hour Beatles tour of Liverpool – the original and most popular of our Liverpool Beatles tours. Want to delve deeper? Take a look at the Classic Beatles PLUS tour.
BEST OF LIVERPOOL SIGHTSEEING TOUR
LENGTH: 3 HOURS
This private 3-hour guided tour of Liverpool city centre, its two cathedrals & iconic Beatles highlights is the perfect introduction to this vibrant city. Your tour offers a rounded story of this fab city and takes in some hidden gems, too.