EXPLORE THE #1 BEatles LIVERPOOL TourS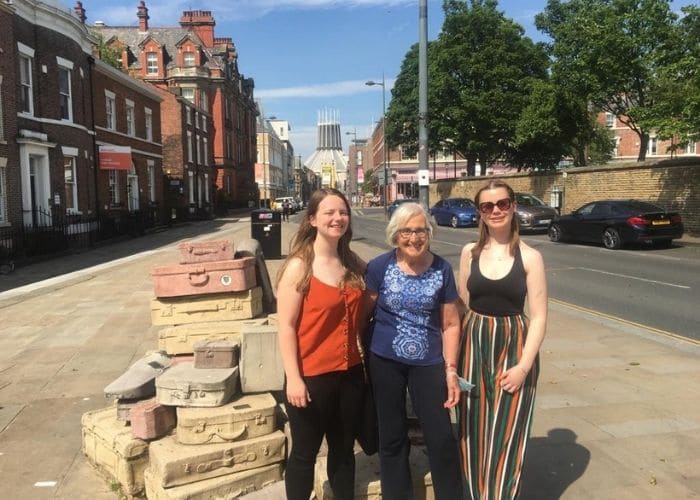 BEATLES EARLY YEARS TOUR OF LIVERPOOL
LENGTH: 1.5 HOURS │ UP TO 5 GUESTS
Explore the early years of The Beatles, their rise to stardom and hear about some significant people who formed their lives. Focus lies on Liverpool's Georgian Quarter & Knowledge Quarter in the city centre and incl. 64 Mount Pleasant, Oxford Street, Hope Street, LIPA and more...
CLASSIC BEATLES TOUR
BY PRIVATE CAB
LENGTH: 3+ HOURS │ UP TO 5 GUESTS
Discover some of the best stories & insights of the Fab 4 on this privately-led 3-hour Beatles tour of Liverpool – the original and most popular of our Liverpool Beatles tours. Discover Penny Lane, Strawberry Field, childhood homes, Eleanor Rigby's grave & Woolton village.
BEATLES CHILDHOOD HOMES TOUR OF LIVERPOOL
LENGTH: 5 HOURS │ UP TO 5 GUESTS
We´ve teamed up with the National Trust to give you access to Mendips and Forthlin Road as well as an amazing tour of the Beatles childhood homes! Who were the Fab 4 as children, how did they meet and what made them one of the most famous bands in the world?
DELUXE BEATLES EXPERIENCE INCL. CASBAH COFFEE CLUB
LENGTH: 6 HOURS │ UP TO 5 GUESTS
Explore a more in-depth Beatles experience taking in our classic tour incl. Penny Lane, childhood homes (exterior), more time at Strawberry Field and a very special visit to Casbah Coffee Club! Join us on a personal journey of our Fab4, their lives and journey to fame!
ULTIMATE BEATLES INCL. BEATLES STORY AND CAVERN
LENGTH: 8 HOURS │ UP TO 5 GUESTS
Combine our famous Classic Beatles tour with The Early Years tour and add in some extra Beatles magic! Your tour includes a walk along Mathew Street, a visit to the world-famous Cavern Club filled with live music as well as entry to the Beatles Story on the Historic Waterfront!
BEST OF LIVERPOOL SIGHTSEEING TOUR
LENGTH: 3 HOURS │ UP TO 5 GUESTS
Experience Liverpool on this fascinating guided tour in your private taxi cab and explore the wonderful city centre, cathedrals and waterfront as well as the the iconic Anfield stadium and Liverpool Football Club. Your sightseeing tour offers a fantastic rounded story of Liverpool.
ARRIVING AS A GROUP OR LOOKING FOR SOMETHING DIFFERENT?
At Fab 4 Taxi Tours nothing is impossible – speak to us about your perfect tour experience and we will make it happen for you!
Visiting Liverpool as a group? We can arrange a group tour with our taxis and take you places coaches can't reach, giving you an intimate feel to your group tour experience. 
Be as involved in the planning or leave the work to us. The result will be a memorable tour for you, your family and friends to cherish forever.
Choose your perfect tour pickup location
Don't worry, a city centre pick up is included in your tour cost. If you are based further afield, we have created a simple price list below which will be added to your tour rate at booking. A rates below are based on one-way travel:
L1, L2, L3 postcodes (e.g. city centre hotels): included in your tour
L4 – L36 postcodes: £17.50
Liverpool John Lennon Airport: £30.00
Wirral: £45.00
Ormskirk (L37) & Formby (L39): £40.00
Southport & Chester: £55.00
Manchester (incl. Manchester Airport): £100.00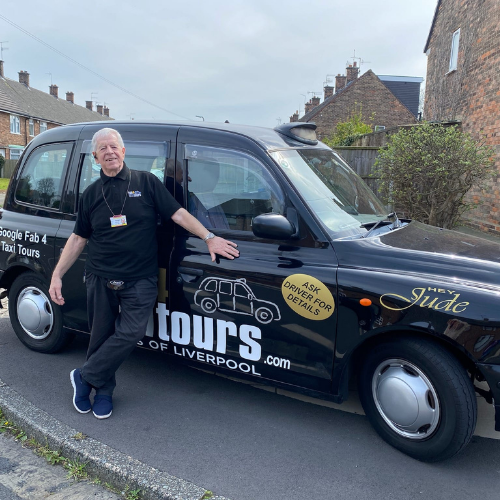 Since our origins in 2007, our philosophy has not changed – our mission has always been putting you, our customer, first. Our whole aim is to create the perfect experience for you and your fellow travellers, clients, friends, family or colleagues.